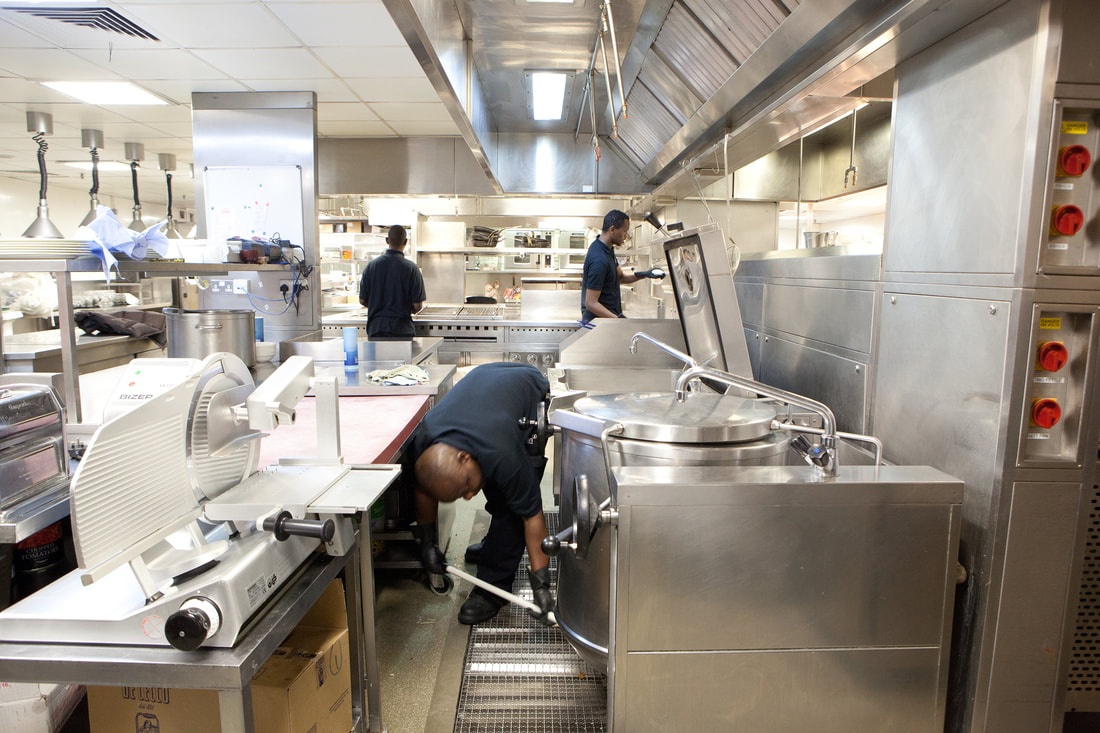 Cleaning kitchen exhaust systems is one of the most critical parts of fire prevention. These systems are responsible for removing the smoke and grease from your kitchen every day. This will inevitably cause your exhaust to build up with grease and oil, presenting a considerable fire risk. The frequency of cleaning necessarily varies considerably depending on the type of cooking your commercial kitchen does. These can all be found in the rules given by the governing bodies, the National Fire Protection Association (NFPA), and the Food and Drug Administration (FDA). These rules dictate that the cleaning must be performed by locally certified individuals. This means it is essential to have your kitchen exhaust cleaning done by someone you can trust. Trust your kitchen exhaust cleaning to one of the licensed kitchen exhaust cleaning companies in Atlanta, such as Atlanta Hood Cleaning Services. Call us today for a free inspection and quote today. 
The cleaning frequency is covered in guidelines provided by the NFPA & FDA, so we can't give you a firm rule for how often you will need exhaust cleaning. This will be determined by what and how you cook. Cooking with solid fuels will require cleaning every month with typical use, whereas cooking long hours on high output equipment will generally only require quarterly cleanings. More modest commercial kitchens with low to moderate output often require only cleaning twice a year. Most restaurants do not worry about figuring out how often they need inspection and cleaning because they hire professionals who both handle the cleaning as well as figuring out how often it needs to be performed. Our professional cleaning technicians know all the federal and local guidelines imposed on commercial kitchens and are equipped to perform kitchen exhaust cleaning on all types and sizes of systems. Call Atlanta Hood Cleaning Services today to see how we can help take the work off your hands. 
Your kitchen exhausts and ducts all require cleaning; this is why we thoroughly clean all accessible ductwork. This not only reduces the fire risk but also may increase your kitchen exhaust's efficiency considerably. A dirty exhaust system often builds up grease and stuck on material on the sides of the ductwork, restricting the ability for the exhaust fans to suck air through them, potentially reducing their efficiency well below what they were designed for. This material will often start to smell as well, potentially leading to an unsafe and unpleasant working environment for your staff. 
Kitchen exhaust filters are extremely difficult to clean, which is why we soak them overnight. Our biodegradable cleaning solutions are chosen to match the kind of cooking you do, thus allowing them to dissolve stuck-on material such as grease or oil that has been thoroughly cooked on. After an overnight soak, we will have your filters ready to reinstall the following morning to prevent disruption to your staff and routine. 
The authorities recognize us as one of the most trusted kitchen exhaust cleaning companies in Atlanta. Why take chances on fines, safety, or liability. You can trust our trained and licensed staff to leave your commercial kitchen clean, safe, and odor-free. Call Atlanta Hood Cleaning Services today for a free inspection and estimate.